One-Piece Fall Reduction Chair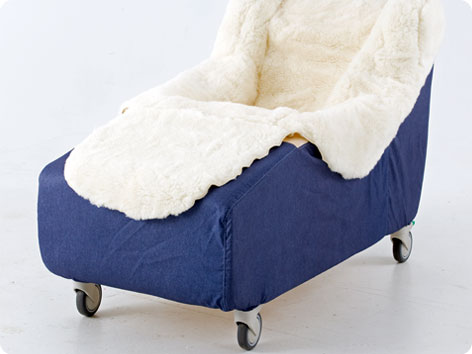 CAREFOAM's one-piece fall reduction chairs are key components of our restraint-free program. Both models are built on smooth rolling casters and are especially useful for residents who spend most of their waking hours seated and who are frequently transported throughout the facility by staff or family. These chairs are designed to safely support and comfort patients in a variety of seating positions - they are effective in the care of clients suffering from dementias such as Alzheimer's or the uncontrolled movements of Huntington's Disease. The "all foam" construction eliminates hard edges, improving patient safety and comfort while reducing unwanted wanderings. Manufactured from five different densities of foam, including memory foam, these chairs are also appropriate for those clients who may need pressure reduction or are in unusual seating positions. CAREFOAM's design allows the user to experience head, neck, and lumbar support while assuming a variety of positions in the chairs. Unique features accommodate both weight-bearing residents and those who require a patient lift.
Genuine Australian lambswool covers (machine washable) offer superior skin care and comfort.
Optional Alpine Fleece covers are available.
Crypton® upholstery fabric (two pattern choices) is water repellent, stain resistant, and antibacterial.
Carefoam covers are treated with Ultra-Fresh® for antibacterial and freshness protection.
Incontinence-proof seat insert is antibacterial SoffTICK® with welded seams.
5" locking casters (one steering lock caster) ensure easy maneuverability - a caregiver's delight.
Fabric and foam meet fire retardancy requirements of the California Technical Bulletin 117.
Limited Manufacturer's Warranty - 3 years on all components except covers. Covers guaranteed free from defects upon delivery. Please follow care and laundering instructions.
Important: NO CHAIR CAN TOTALLY PREVENT FALLS. CHAIR USERS SHOULD BE SUPERVISED
AT ALL TIMES.
Fabric Choices


Galaxy Fabric


Multi Fabric
Cover Choices


Australian Lambswool Cover


Blue Alpine
Fleece Cover


Beige Alpine
Fleece Cover
Product Dimensions
Model
CF120
Overall Height
38"
97 cm
Overall Width
28.5"
72 cm
Overall Length
59"
150 cm
Seat Width
18"
46 cm
Seat Depth
18"
46 cm
Back Height
28"
71 cm
Arm Depth
11.5"
29 cm
Weight Capacity
250 lbs.
114 kg
Chair Weight
79 lbs.
36 kg
For inservice presentations, trial evaluation opportunities, and product information, please contact our Marketing Offices.