CAREFOAM Sleep Products
The healing and restorative benefits of a good night's sleep result in a positive impact on patient well-being. CAREFOAM's mattress overlays, toppers and pillows are designed to help improve recovery and enhance pressure reduction. A more comfortable and safe sleep environment promotes a better quality of life for the resident, and a reduced workload for caregivers.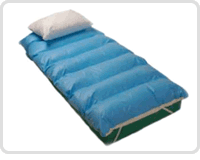 CF760 Pressure Reduction Overlay
The CF760 Pressure Reduction Overlay consists of seven individual cushion pockets. These cushions, made from supportive polyester fiber, provide variable pressure reduction zones and are interchangeable for improved product life. The cover is hospital sheeting on one side, and fluid resistant, antibacterial, high frequency welded SoffTICK ® vinyl on the other side. A retaining pocket on the head end secures the overlay in place, even when the head of the bed is raised.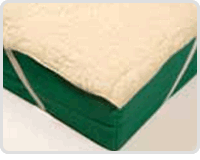 CF600 Wool Overlay
The CF600 Wool Overlay is manufactured from Australian Merino wool, that is sewn into a launder able polyester backing. The deep pile wool is breathable, and this natural fiber wicks away moisture, leaving the user warm in the winter and cool in the summer. Wool is well known for its pressure reduction characteristics. The overlay is available in a variety of bed sizes, and can be ordered to any dimension. The overlays have elastic straps on all four corners.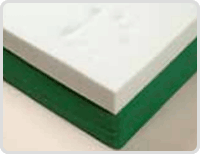 CF770 Viscoelastic
"Memory Foam" Topper
The CF770 Viscoelastic "Memory Foam" Topper is a great addition to any mattress to enhance pressure reduction. This remarkable foam gently compresses, filling all the "nooks and crannies" between the body and the mattress with a soft yet supportive layer of pressure point eliminating support. Soreness to hips, shoulders and other bony prominence's is reduced, and decubitus ulcer occurrences are minimized.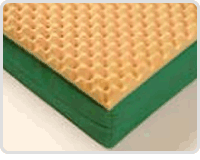 CF780 Convoluted Foam Topper
The CF780 Convoluted Foam Topper is a proven, economical way to provide patients with pressure reduction and improved air circulation as they rest in bed. Our standard product has a 2" high peak, with an overall thickness of 2.5 ", manufactured from top quality, high density, fire retardant foam.
CAREFOAM Pillows
CAREFOAM's Pillows are designed to help the resident get a good sleep by properly positioning the head, neck and shoulders. Our contoured pillows are available in viscoelastic "memory foam" and conventional fire retardant polyurethane foam, as well as polyester fiberfill. We manufacture pillow covers from a variety of fabrics, including fluid resistant materials, cotton/polyester blends, and soft and cozy Alpine fleece.